Elegant and compact design.
The Effeuno P134HA 509 oven is designed to fit perfectly in your kitchen, with an elegant and compact design that doesn't take up much space.
It will be a true gem for your cooking environment.

Versatile functions.
In addition to pizza preparation, the Effeuno P134HA-509 oven allows you to cook other dishes such as focaccias, calzones, desserts, and much more.
Experiment and delight your guests' palates with a variety of culinary delights.

Ease of use.
The oven is equipped with two electromechanical knobs that allow you to set the desired temperature in the upper and lower chambers.
Furthermore, the tempered glass door allows you to easily monitor the cooking process without having to open the oven.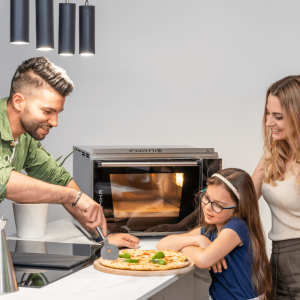 Quality and safety.
The Effeuno P134HA-509 oven is made with high-quality materials to ensure durability and reliability over time.
Its sturdy construction and resistance to high temperatures make it safe to use in any situation.