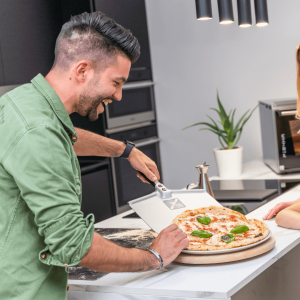 Amaze your family and friends.
With the professional oven P134H 509, you can cook all types of pizza with the same quality as a pizzeria.

Suitable for home use.
The professional oven P134H 509 is suitable for any setting thanks to its compact size and low energy consumption.
The P134H 509 oven reaches a maximum temperature of 509°C, which can be easily adjusted through a control panel equipped with knobs.

Dual heating elements.
The presence of two heating elements allows for the separate temperature control of the upper and lower chambers, resulting in great accuracy and uniformity in cooking. This operation facilitates the preparation process and allows for optimal results to be achieved.

High-quality materials.
Among the materials used for the construction of the oven, we have premium stainless steel, which is employed for the cooking chamber. This material provides high resistance to corrosion.